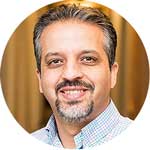 Dr. Nader Hamdan
Periodontist
Dr. Nader Hamdan has worked as a licensed dentist since 1999. He holds a Bachelor of Dental Surgery, with education and experience in periodontics and dental implant surgery. He has received degrees from universities in Jordan and Canada and is a fellow of several professional organizations. Dr. Hamdan has served as an Associate Professor and Director of the Graduate Periodontics Program at Dalhousie University and taught overseas.
He has also authored scientific articles and book chapters and has given numerous lectures and courses nationally and internationally.
Dr. Hamdan looks forward to meeting PerioPartners' patients and serving the Edmonton community for many years.